Unless you've lived under a rock for the last three or so decades, you know there are about a billion options when it comes fueling for your long runs and races. Bagels, bananas, gels, sports drinks, granola, energy bars, dried fruit, yada yada yada yada. The list certainly goes on and on.
There should be no fear, though! We're going to guide you through a couple of the options and chat about what we like, don't like, and why. As you read, keep in mind that no two runners are exactly the same. Each individual's needs are their own, so please experiment (but for the love of all that is holy, don't experiment on race day) and find the best option for you.
That reminds me. Remember when I said no two runners are the same? Well, I am going to amend that statement to say that no two runners are the same, except for two things: hydration and race day experimenting.
Rule 1: Hydration
Hydration is the most important aspect of running. Your body NEEDS to stay hydrated to function. Whether you choose water, sports drink, or a combination of the two, always stay on top of your drinking game. PS: a post-run beer totally counts as hydration.
Rule 2: Nothing New on Race Day
Seriously. I meant it. NOTHING NEW ON RACE DAY. This goes for what you put both on your body and in your body. Who knows how you'll react to a certain type of food. Will you see benefit? Will it upset your stomach? I'd rather have to curtail a training run than to feel miserable and potentially get a DNF.
The Casual Runner Team reviews a lot of products to help you find the ones that 
will work best for you!
Old Fashioned Banana and Granola Bar
This is an oldie but a goodie. It's certainly clunky, but it gets the job done in a way that tastes good. I personally only use this option for a breakfast before a run. It gets to be too much and it's certainly not portable enough for taking at a race. A typical granola bar will have ~130 calories with 18 grams of carbohydrates. Factor in a banana and you'll be at around 230 calories and 45 grams of carbs in total. Not a bad way to get started. That easily sustains me for at least a 10-miler.
Energy Gels
Gu is probably the best-known gel out there. A single packet will get you aboput 100 calories and 21 grams of carbohydrate. It's not as much as your fruit and granola bar, but the size difference is huge. Take it right before you start and then in 30-45 minute intervals. Depending on the run, you may take 2-3 of them. The issue I have: the taste and need to take with water. When I am breathing heavily and thirsty, the last thing I want is a sticky glob in my throat. Personally, it's just not a pleasant experience. An important note: don't chase the gels with sports drink. Water helps break it down far more efficiently so you don't end up with a rock in your stomach.
Dried Raisins and Pretzels
Here's about back-to-basics option. Taking small box of raisins and an ounce of salted pretzels gets you a strong 56 grams of carbs and ~130 calories. Comparable to the banana and granola bar in nutrition and similar in portability to the gels, this is a great all natural option. The sodium from the pretzels is awesome for replenishment of electrolytes if you choose to go the all water method of hydration.
Gorilly Goods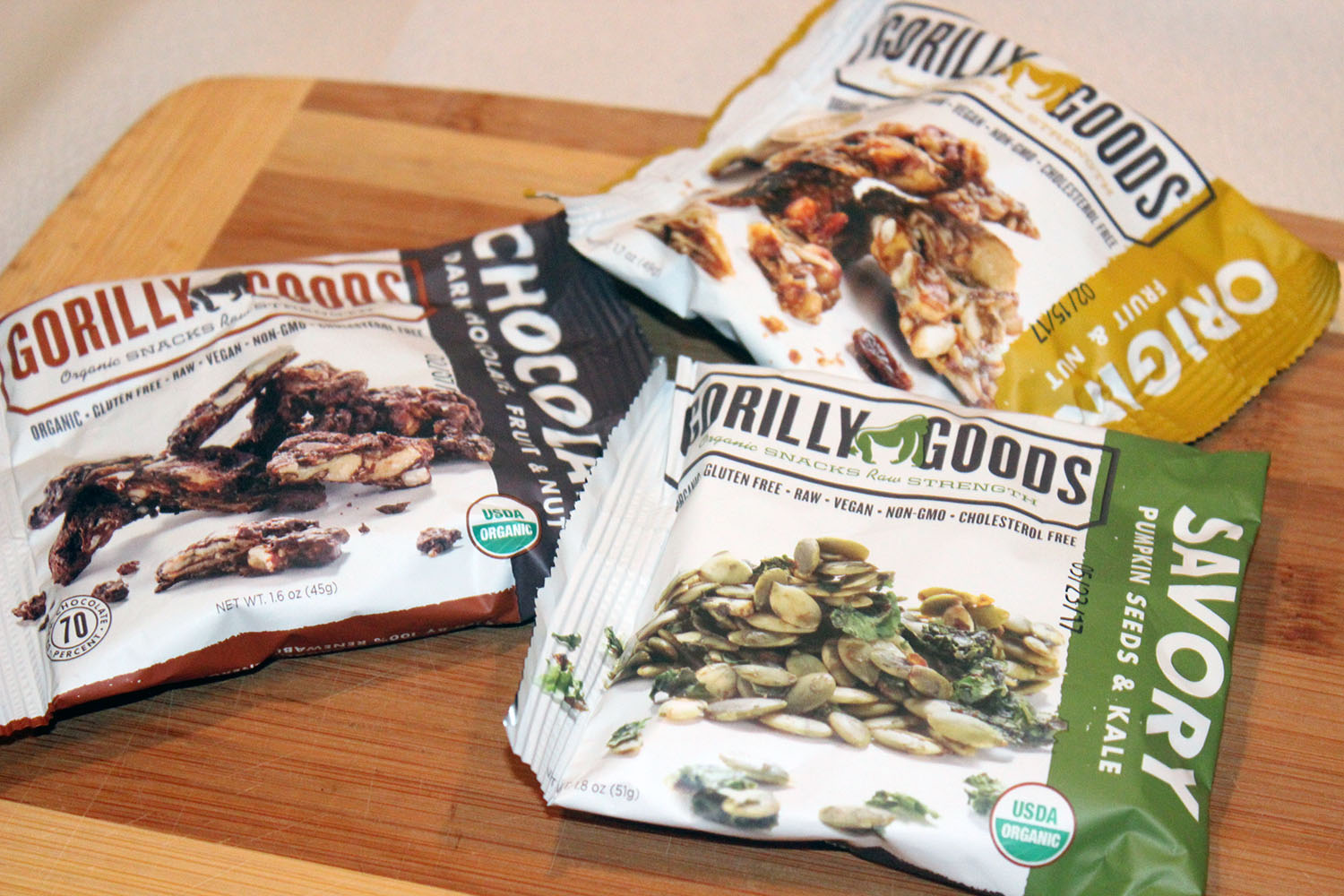 The last option is a combination of all the aforementioned selections. Gorilly Goods combines the portability of the gels, the nutrition of the dried fruits and pretzels, and the taste of the granola. A packet before the run and one in the middle gets you 44 grams of carbs and 400 calories. It's a bit high on the calorie count, but hey – you are running distance and you need it anyway. These will fit nicely in your SPIbelt so you won't have to worry about anything being bounced around, and unlike a gel, you can put the empty wrapper back in without creating a sticky mess.
We're pretty smitten with this new option. Gorilly Goods gives us the nutrition and taste we need, with the feel-good backstory. They're totally raw, all natural, organic, fair trade, vegan, and gluten free.
The Giveaway
Gorilly Goods (with our partner blog, Bottles & Banter) has been generous enough to give a variety box of their organic snacks. Check out the giveaway below – there are many options to enter, so take advantage of any and all of them!
The Casual Runner Team reviews a lot of products to help you find the ones that 
will work best for you!
Enjoy the freedom of going wherever your feet, imagination, & determination take you!
The Casual Runner Team wants to hear from you. If you have any questions about anything we cover here on Casual Runner, if you have any questions regarding running gear or training for your own Casual Running needs, or if there is anything that you would like us to cover on Casual Runner, please leave a comment or email us using the links below. 
You can also follow us on Twitter (Casual Runner & Casual Adventurer), Pinterest, and Instagram (Casual Runner & Casual Adventurer).
To ensure that you do not miss all of the great content from Casual Runner, please be sure to like us on Facebook, subscribe to our YouTube channel, & add us to your circle on Google+.
Enjoy the freedom of going wherever your feet, imagination, & determination take you!
Comments
comments